1 August, 2017 |
ANPPCAN Regional Office will hold a 2-day skills training seminar for the Nairobi Child Protection Team in a Nairobi hotel later this month.
Over 40 participants will participate in the training that is supported by the Gender Violence Recovery Centre of the Nairobi Women's Hospital.
The training is aimed at enhancing the capacity of the individual members in handling and responding to cases of child abuse and neglect in Nairobi.
The Team is a network of professionals working in child protection and members are drawn from organizations that offer legal, medical, and psychosocial support services to children at risk and/or victims of abuse in Nairobi.
The team was initiated in 2010 by ANPPCAN Regional Office as a model of a functional child protection system in Kenya.
Among other activities, the Team holds quarterly meetings each year to share good practices in child protection, abuse prevention and response, to share experiences in managing difficult cases of child abuse and to strengthen the referral system for child protection in Nairobi.
Some of the topics that will be covered during the 2-day training seminar include case management, referral systems, laws protecting children from abuse and their applications, quality improvement, research and advocacy as well as child led initiatives and monitoring of abuse.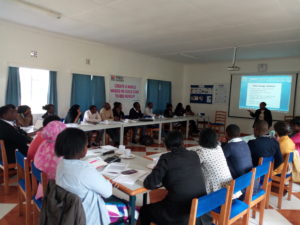 Meeting of Nairobi child Protection Team in session on 26 July 2017 at Feed the Children, Dagoretti, Nairobi.
http://www.anppcan.org/wp-content/uploads/2015/01/Logo_ANPPCAN_big.png
0
0
admin
http://www.anppcan.org/wp-content/uploads/2015/01/Logo_ANPPCAN_big.png
admin
2017-08-01 08:54:13
2017-08-01 09:15:17
Skills Training for the Nairobi Child Protection Team