Over 30 years of experience
ANPPCAN was founded in 1986 at the first Child Labour Conference in Africa. Since then, we've been doing everything we can to protect children from abuse and promote their rights. We do this by implementing our core competencies through our Regional and Chapter Offices across the continent.
ANPPCAN runs programmes throughout Africa through our various chapters. The programmes listed below are run through our Regional Office in Nairobi, Kenya.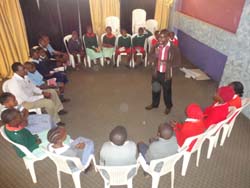 Protection of child victims or children at risk of sexual exploitation in Kenya
The overall objective of the programme is to fulfil the rights of children to live free from all forms of sexual exploitation in Kenya. The programme works to reduce children's vulnerability to sexual exploitation and to facilitate better integration of issues relating to commercial sexual exploitation of children into child protection systems in Kenya. It achieves this through the mobilisation of decision makers and stakeholders on CSEC via the support of the National Plan Action against Sexual Exploitation of Children in Kenya. In the self protection programme for children, the programme empowers children in schools in Nairobi County to keep safe from sexual violence.  It also targets teachers, social workers and police officers to improve their preventive and reaction efforts to cases of child sexual abuse and exploitation. The programme also works with the Area Advisory Councils and community level gender based groups to increase their capacity in preventing and responding to sexual violence involving children. The programme is supported by ECPAT France.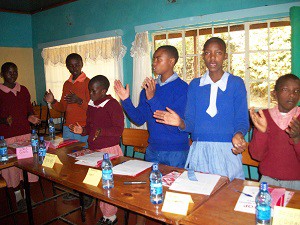 Combating child labour through education
ANPPCAN was founded in 1986 on the basis of fighting child labour in Africa. Since then, other child protection concerns have emerged but addressing child labour has remained the core of ANPPCAN's work. At that time, many children in Africa were being exploited in labour activities and education was considered as the vaccine. ANPPCAN's work therefore has involved withdrawing children from labour back into school. To date, ANPPCAN is passionate on eliminating child labour and expanding education and skill training opportunities. Subsequently, child labour has now been mainstreamed into ANPPCAN's programmes. This is because school offers the best environment for the protection of children and enhances the realization of the other rights of children.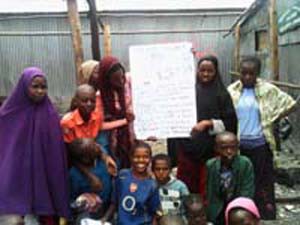 Reducing Violence Against Children
This programme works to reduces violence against children with special focus on sexual exploitation of children in Embakasi Sub County in Nairobi County. Some of the strategies used by the programme in fighting SEC include raising  awareness and knowledge levels on sexual exploitation of children, advocacy and lobbying as well as strengthening cooperation, networking and linkages among stakeholders and front-line professionals involved in addressing sexual exploitation of children in Nairobi County.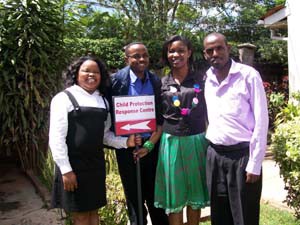 Child Protection and Response Centre
The Child Protection and Response Centre advances the core mission of ANPPCAN – to prevent and respond to cases of child abuse and neglect. The Centre receives, documents, assesses and takes appropriate remedial action (which can be medical, legal and psychosocial support), including referral of all cases of child abuse and neglect reported at the Centre. The Centre works through a network of professionals (spanning the legal, health, psychosocial sectors) to provide the best care possible to children in need. In its work, the Centre collaborates with Child Protection Units (CPUs) in police stations on professionalizing response to cases of violence against children.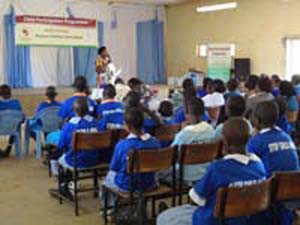 Child Participation
The Child Participation programme rallies children to advocate for their own rights and other children's rights, especially those that are orphaned or affected by HIV and AIDS in Busia and Kajiado counties in Kenya. It works to prevent and respond to all forms of child abuse and exploitation by empowering children as advocates of their own rights and those of other vulnerable children. The programme has setup Child Rights Clubs and Help Desks in programme schools in the two counties where children are taught on their rights, responsibilities and in reporting cases of child abuse. Guardians of the children have also been supported through a Loans project in income generating activities to support the education of their children and to increase household incomes.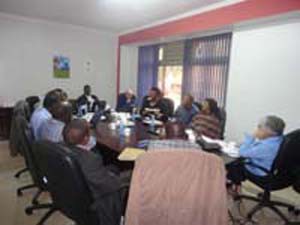 Networking and Advocacy
ANPPCAN creates and maintains networks and alliances on child protection through its national chapters and other like-minded organizations. The organization works through these networks and alliances, comprising of professional groups, organizations, societies and regional arrangements at the local, national and regional levels, to leverage on resources, strengthen capacities and enhance the delivery of services to children. ANPPCAN regularly uses such networks in Africa to push the children's agenda to the doorsteps of the duty bearers, including policy makers.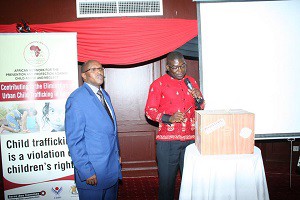 Eliminating Urban Child Trafficking in Kenya
In this programme, ANPPCAN works in a consortium of three partners to address urban child trafficking in Nairobi. Specifically, the program empowers communities to prevent and respond to child trafficking. This is achieved by enhancing knowledge on child trafficking mainly through action research, community awareness and mobilization. It also builds the capacity of stakeholders through establishment of multi-level child protection systems to address child trafficking. Most importantly, the programme withdraws victims of child trafficking, offers them interim care and thereafter re-integrates them back into their families while providing them with appropriate support services to remain in the families.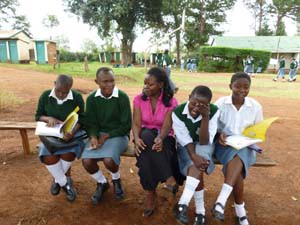 Child Education Sponsorship
The Child Education Sponsorship programme facilitates children to access education and vocational or skills training in Kenya. It targets orphaned children and children from poor backgrounds to realize their dream of education. The programme meets school fees and personal effects of the children and also empowers parents whose children are hosted in the programme in the running of viable income generating activities of their choice in order to raise their household incomes and support the education of their children. This ensures the participation of parents in the education of their children and sustainability of the programme.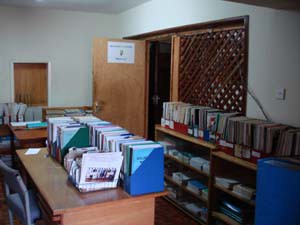 Research, Monitoring and Documentation
The Centre conducts research and documents child rights experiences. It also collates, processes, organizes information materials and also makes it available to staff, other organizations and the society at large. The Centre comprises of journals, books, published and unpublished books, grey literature, periodicals (newsletters and magazine), compacts disks and pamphlets.
.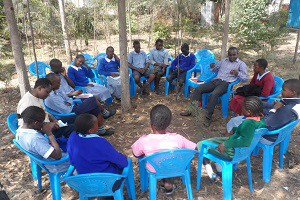 Quality Improvement on Child Protection Systems
The programme strengthened community child protection systems in Kenya, Tanzania, Swaziland and Uganda by organizing a multi-level community of learning on child and family protection systems and conducting improvement activities to support those systems in the four countries.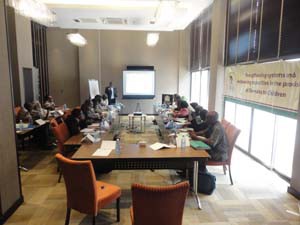 National Child Protection Systems
The National Child Protection Systems programme works to strengthen child protection systems in Ethiopia, Kenya, Rwanda, South Sudan, Sudan, Tanzania and Uganda. The programme achieves this by strengthening the legal and regulatory environments, improving the human and capital resource base necessary for child protection, strengthening national institutions, supporting research, data management and also disseminating and supporting intracountry learning and sharing in the seven countries.
Below is a snapshot of what our Chapters are doing in Africa.
Mauritius
The halfway home
The halfway home caters for children and adolescent offenders under the age of 18 who are transiting from institutional care to family care. The halfway home provides children and youth offenders with intermediate care, in which they are rehabilitated and then supported to start an independent adult life.
Sierra Leone
Child labour
The programme withdraws teenage commercial sex workers operating in mining areas in Freetown back into their families and /or schools. The programme also targets rural children in the urban areas of Freetown to minimize and eventually end trafficking of children. It seeks to keep all children on the farms as opposed to working in the mines.  Subsequently, the programme has established farm cooperatives in mining areas to make farming more attractive to children.
Family safety
The programme assists women to enter into economic activities in order to raise family incomes and also provide their children with basic needs.  By so doing, the programme holds the children back from labour activities in the Western Region of Liberia. It also assists rural women in Freetown in charcoal and firewood production to improve their economic status as well as to keep their children in school and minimize child prostitution.
Kenya
Elimination Child labour
The project eliminates child labour by withdrawing children from labour, in particular the Worst Forms of Child Labour and enrolling them back into schools. Older children are enrolled in vocational or apprenticeship courses. The project also creates awareness through radio programmes and also builds the capacities of local leaders in child rights. Those targeted in  this training include the beach leaders, the local administration and teachers. Parents are provided with livelihood support and also sensitized on children's rights.
Positive Discipline
The program trains early childhood development teachers and parents on positive discipline. Positive discipline is a model of bringing up children based on child rights principles and best practices in parenting with an understanding of child development. The program is also aimed at teaching children the desired behaviour and weaning bad behaviour without hurting the child emotionally or physically.
Elimination of child trafficking in Mukuru and Mathare
The programme prevents and responds to child trafficking in Mathare and Mukuru communities in Nairobi. Besides awareness creation, the programme also builds the capacity of key stakeholders on child protection, including the formation of child rights clubs in schools. The programme is being implemented by a consortium of three other partners, namely; the ANPPCAN Regional Office, The Centre for Domestic Training and Development (CDTD) and Childline Kenya
Liberia
Anti-child labour
Better known as 'Actions to Reduce Child Labour', the project supports children involved in or those at risk of joining child labour with livelihood support and social protection services. The project works with other partners in the development of policies and strengthening of institutions working on child labour. Also, the project conducts research on the scope of child labour the country in order to improve response. At the local level, the project works with community actors in stopping child labour and promoting education of children.
Women economic empowerment
The project has established an empowerment centre for women in Dewoin District in Bomi County. Women in the community are provided with literacy and numeracy skills and also trained in savings and loans schemes and business ventures. The women are then provided access to capital to begin or expand their businesses, increase their financial independence and initiate savings through the VSLA scheme. Women enrolled in the project are engaged in income generating activities, thereby reducing their vulnerability against violence.
End violence initiative "let's speak out"
The End Violence Initiative through 'Let's Speak Out' provides a foundation to counter sexual violence and abuse in schools and in the communities. The initiative engages with and influences social actors through sensitization and awareness raising to prevent and reduce violence (especially rape) against children in the home, community and in schools. It also increases public dialogue on violence against children.
Child Rights Monitoring and Documentation
The programme links victims or survivors of abuse, including sexual abuse and exploitation, trafficking and those rescued from the Worst Forms of Child Labour to support services. Referral networks within communities detect and intervene in cases of maltreatment, including gender based violence by providing appropriate services. The networks are structured around existing traditional community care and support systems and connects with other community based and non-governmental organizations as well as statutory service providers. The referral network enables victims and survivors of abuse to access psychosocial support, counseling as well as recovery and reintegration.
Nigeria
Strengthening Civil Society Networks to effectively coordinate joint activities with Public Institutions responsible for preventing sexual abuse and violence against children to support implementation of the Child Rights Act (CRA) in Nigeria
The project implements the recommendations of the Second International Conference in Africa on Child Sexual Abuse held in Accra, Ghana in 2012. It aims at minimizing and eventually eliminating sexual violence in regions in northernNigeria. The has established and operationalized a Joint Task Force spearheaded by the Federal Ministry of Women Affairs and Social Development that is responsible for preventing child sexual abuse, violence and neglect.
Local Partners for Orphans and Vulnerable Children (LOPIN) – Anambra and Imo State
The project, covering ten 10 communities in Imo State, Nigeria, aims to improve the quality of life of 11,300 vulnerable children in 2,260 vulnerable households. Through this project, vulnerable children and their households are provided with essential services, including education and training, nutrition and food security, protection, health, psychosocial support, household economic strengthening and shelter and care.
Somali/Somaliland
Child Rights Enhancement Program in Somaliland
The project works to develop the capacities of children to influence decisions that affect their lives and also promote an active civil society in supporting the rights of children. The project endeavours to strengthen systems to accelerate the realization of of the rights of children in  Somaliland. Activities of the project include supporting the government in reviewing  developing and implementing laws, policies and programmes  for the realization of the rights of children. The project also works to strengthen the capacity of children's organizations and civil society groups in advocating for children's rights, including holding the government into account.
Infant Young Child Feeding
This project works to improve Infant and Young Child Feeding and care practices in Somaliland and Somalia. This is achieved by the creation of an enabling policy environment for IYCF at the national level, including promoting counseling and support for vulnerable segments of the population in the internally displaced population settings. Key components of the project include management of acute malnutrition, sensitization on micro nutrients, promotion of immunization and deworming activities.
IGAD Regional AIDS Partnership Program
The project empowers cross border populations and surrounding communities to prevent and control HIV and AIDS through greater accessibility and utilization of existing HIV prevention and control services. The project increases preventative action and reduces misconception of cross border and mobile populations, refugees, internally displaced people, returnees and host communities concerning HIV and AIDS prevention, treatment and mitigation in Somaliland.
Maternity Waiting Homes and Delivery Center Project

The project works to reduce maternal and newborn morbidity rate in three internally displaced persons settlements of Garowe, Galkiao and Bosaso through establishment of maternity waiting homes and delivery centre, promote save motherhood and save delivery for pregnant mothers and increase self-reliance and resilience of the target population. ANPPCAN-SOM's Puntland operational areas for the Maternity Waiting Homes and Delivery Center's project are located in Jowle IDP at Garowe Nugal region, Tawakal IDP settlement at Bosaso, Bari region and Hayat at Galkiayo Mudug regions. MWH is supported by the United Nations Population Funds (UNFPA) and is being implemented by the Chapter in collaboration with the Ministry of Health of Puntland and the Government of Somalia.
Tanzania
Child Rights project
The programme works in three districts in Tanzania and develops models for child right empowerment and advocacy. It establishes child right clubs, promotes positive parenting and mobilizes communities to protect children from abuse and neglect.
Anti-Child Trafficking
This project targets MVC's, OVC's, survivors of abuse and victims of child trafficking with psychosocial-support services. The overall aim of the project is to help individual children and families to heal the physical, emotional or cognitive dysfunction and/or general distress brought about by abuse, trafficking or other risk factors.
Household Economic Empowerment
The project promotes and mobilizes poor households to diversify their sources of income and savings for sustainable development. The Village Saving and Lending component of the household economic empowerment ensures that poor households have access to micro-finance for the development of enterprises.
Child Protection System Strengthening
This project aims to strengthen and establish community structures for eliminating and responding to violence against children. It involves establishing, training, mentoring, inspiring and couching of various child protection community structures such as Ward Child Protection Teams, Village Most Vulnerable Committees and also inculcate positive parenting skills amongst parents and caregivers as well as Child Right Clubs.
Ethiopia
Child Protection
The project provides rehabilitation services including medical, counseling and family reunification for child victims of maltreatment. The project published a manual on positive child discipline that is available and is being implemented in schools across the country. The project also runs a child help line which serves as an emergency reporting service for child victims of maltreatment. The services provided by the helpline include counseling, medical care, reunification and referral with the relevant government partners.
Support for Highly Vulnerable Children
This project focuses on the highly vulnerable children (HVCs) in North Gondar Zone of the Amahara Region. Under this project alone, ANPPCAN-Ethiopia has managed to reach 13,759 HVCs with a wide range of services including housing, education materials, health care, nutrition and economic support for the family.
Rescuing Children Exposed to Prostitution
ANPPCAN-Ethiopia is instrumental in rescuing children exposed to prostitution in Addis Ababa through the provision of vocational skills training.
Economic Empowerment of the Youth
In response to the ever spiraling migration of the youth from rural areas of North Wollo Zone to urban centers, this project supports youths who are on the verge of migration in Wdla and Meket Districts to engage in gainful income generating activities in their localities. Youths are trained on off-farm activities and business development skills, including access to start up capital and market linkage.
Migrant and Trafficked Children
The project focuses on protecting of children on the move in Northern Ethiopia Corridor, North Wollo Zone. It seeks to reduce child migration and trafficking through strengthening child protection structures, including community child care coalition, school child protection clubs and school media with involvement of local duty bearers.
Provision of Quality Education
The project contributes towards improving the quality of education of children through the construction of schools, provision of school equipment, reference books and play materials and tutor programs for needy children.
Water and Sanitation
The project contributes to the construction of portable water for the community and schools and separate latrines for boys and girls in intervention schools.